About the Cover Vol. 81 No. 9 (2005)
About the Cover
Vol. 81 No. 9 (2005)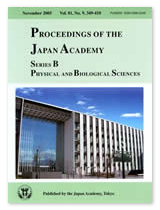 Creative Research Initiative "Sousei", Hokkaido University
The Creative Research Initiative "Sousei" of Hokkaido University (CRIS) was founded in February 2002 in the northern part of the Sapporo Campus which has been developed by the university as a new base for the creation of knowledge.
The CRIS was established to, in an integrated manner, create complex new fields of research from a mid-and long-term perspective, forge transdisciplinary research and return the results of academic activities to society, through making the most of research conducted by graduate schools, as well as research institutes and centers under a trans-departmental research promotion system.
It now consists of three departments: the Strategy Planning Office, which develops transdisciplinary and integrated research fields; the Liaison Department, which serves as the contact for promotion of gevernment-industry-academia collaboration; and the Research Support Department, which provides technical support for research conducted by researchers within and outside of the university; as well as six research divisions to promote basic research, as well as transdisciplinary and integrated research through the integration of different fields.
In the future, the CRIS aims to become an advanced and open research base through further promotion of world-class research, enhancement of joint research with private companies and external organizations, creation of new industrial technologies by integrating various knowledge in the university, and offering services for researchers within and outside of the university through the open facility system managed independently by the CRIS.
(Caption was prepared by Prof. Yoshihito OSADA, Director of Creative Research Initiative, "Sousei" and Vice-President of the Hokkaido University)